We Promote. You Win!
Tees & Tumblers + Promos listens to your needs to promote yourself, and the end results.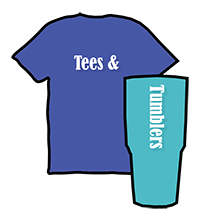 What are the end results?
Do you want more exposure? May I suggest pens - did you know the average pen has the life of 8 people touching and holding it. Amazing - affordable advertisings

Hats - another great affordable "visibility" tool.
Apparel - from Tees to Hoodies to Jackets - we have you covered.

Do you want to increase revenue? The opportunities are endless. First, what do they do for fun, work, and play. Let's target that. The more they see your logo the more they have the "light bulb" moment.

Target a specific market or client group?

Bring past clients back?

Pan for new clients?

What about rewards?

Your employees have been hit hard with the pandemic, displaced at home working without the team and YOU. Many have experienced lay-offs and will start onboarding new employees again. Time to reward your staff and show your daily appreciation.

Maybe a monthly food & snack subscription to the office. Healthy is better!

Apparel – with a special message – thanking for service

New Stainless-steel drinkware – keeping beverages hot and cold.
This is what we do at Tees and Tumblers. We dig deep so you will find return on your investment. We too want you for a client next time you need a promo or great sales tool.
The owner has over 20 years' experience in the hospitality industry including retail sales, full-time commission sales and family business. We have experience in websites, collateral media and we can help you make the RIGHT decisions for your business.
CALL TEES 411 NOW for assistance. (833-741-1669)